While it wasn't exactly the blizzard that we'd hoped for, we got about 6 inches of snow last night. This meant that Patrick and I were happily snowed in for most of the day and that it was the Best Day Ever for the pups.

I called my friend John this morning to cancel plans to get together for breakfast and he answered the phone with, "KATIE!!! IT'S CHRISTMAS!!! AND SPRING BREAK!!! TOGETHER!!!"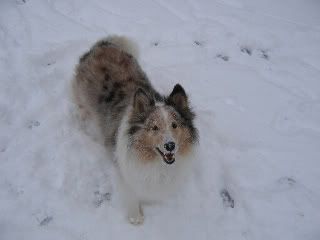 Can you see the snow all over her? Myra especially LOVES the snow. She rolls around in it and tries to bury herself in it. I think it's because she has so much fur and it's the only time she can cool off. Sally, on the other hand, just runs and runs. Like so.




We spent hours outside today running and chasing and eating lots and lots of snow. We took a walk around the neighborhood and saw other people snowed in and playing outside. We all took a nap later in the afternoon, just to seal the deal that it was a lazy, snowed in afternoon.




We managed to dig ourselves out later in the day to make a run to the market and to Target (is it possible to leave the house and not go to Target? I've tried it and I think the answer is no.) so we're shoveled out enough to get to John's for brunch in the morning. This will go down in my personal history book as one of my Best Days Ever.