Feeling better today, thankfully. I made an appointment to go to Student Health in the morning to see if I have strep throat (those of us inhabiting my body would like to avoid any potential rheumatic fever and heart valve replacements if at all possible), but I am hopeful that the worst is past. As such, a recap of the awesome last week, one so fun it killed my immune system:

Monday: Patrick's birthday! We aren't much on birthdays, but I decorated and made dinner for him. This might have been the biggest gift of all, seeing as I hate to cook and am awful at it. But I made food for us so he didn't have to and he was super excited about it. He also thought it was funny that his biggest ($) gift from me was a new saucepan in which to cook me lots of yummy food for years to come. Yay for gift reciprocity!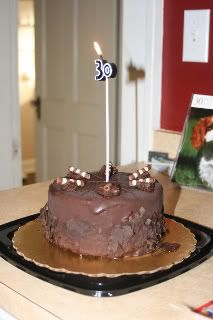 Tuesday: day of rest after birthday shenanigans. Leftover birthday cake was enjoyed by humans only.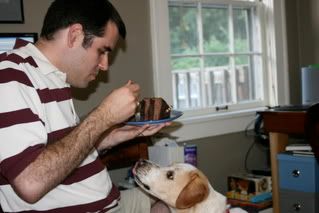 Wednesday: My birthday! Lunch with a friend and a haircut. BUT THEN: as a mutual gift, Patrick and I went to the Kentucky Theater's showing of the first Back to the Future, among our favorite movies ever to be made. We got advance tickets even, we're that serious about it. The place was packed and many in the audience were clearly seeing it for the first time. This just blew my mind: I have seen this classic film probably 100 times (without exaggerating). It and its sequels were an integral part of my childhood and I clearly remember seeing the second two in the theater with my father and sister. Before the show started, the MC stood up to give some announcements and said, "Can you believe that a movie released in 1985 is being shown in a Summer Classics series? It's official, Generation X: YOU'RE OLD." I thought this was so appropriate for our birthdays! Patrick wore his new (for his b-day) "Save the Clocktower - Hill Valley Preservation Society" shirt for the occasion.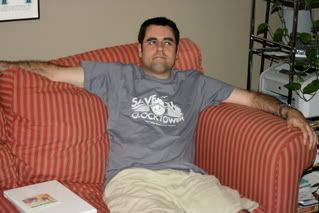 Thursday: Best Nephew Ever's first birthday! Baby Mama and Bro-in-law threw a smashing party at their place with a "Cat in the Hat" theme. Seriously, people. The cake was a three tiered HAT (red and white stripes and all). And there were actual green eggs and ham! That's my family, yessir. It was among the most fun I've ever had. Who knew kids were so hilarious and adorable? Pics of this event coming soon...

Friday: July 4! We had brunch with some of our oldest friends, his parents, and their 2 year old. Good times were had, especially when the 2 year old, who is among the most outgoing children in the world, informed that she was LEARNING TO BE SHY. She took my face in her hands and held her face close to mine to make sure I understood. SHE IS SHY TODAY. Then she covered her face with her hands and looked at me through her fingers to demonstrate. So cute. Patrick and I headed from there to my mother's for some swimming and food. A rousing game of Water Baseball ensued, which nearly caused a fight between my youngest two sisters who were certain that each team was cheating. This was followed by handstand contests, judged by Patrick who forgot his suit. Normally, we do categories like "Stay Up the Longest" or "Walks the Farthest on their Hands". Patrick, who is a little left of center anyway, gave categories like "Most Environmentally Friendly" and "Most Similar to a Weather Event".

I'm the one wearing black in the front...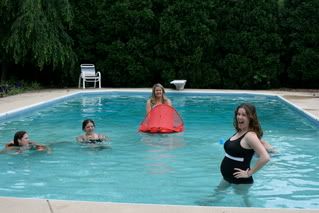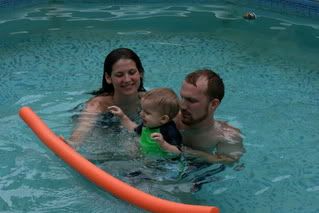 Saturday: Patrick and I slept in and hung out with my father for a few hours in the morning, got back to the 'Ville in time for a lovely evening with Patrick's dad. We swam at his house and ate all kinds of deliciousness. We headed home late Saturday night and slept in our own bed. On our drive back, we almost gained another dog - I saw a big, shaggy dog loping along the side of the highway and was so upset that I pulled over and made Patrick go look for it. At midnight. On the highway. He did so without thinking twice about it. He almost got it, but it ran away at the last minute. We got back in the car, got off on the nearest exit, and made a loop back to try to find it again. We saw it from the car the second time, but never saw it and we decided to assume that it had found its way into the woods and was safe from the highway. I don't know what we would have done with it - we had our dogs in the car and would have no way of getting it anywhere, but we would have figured something out.

Sunday: We had a birthday party for us! We had about 12 people over and just hung out for the evening. It was such a good time until the very end, when both me and Patrick started getting scratchy throats...

Monday: Poor Patrick had to work, but I stayed in bed almost all day.

Now you're all caught up! Finally we can return to our normal, daily routine of posting. I have a lot more to tell you about, but it will have to wait for another post - it's feeding time for Mama!