This leg of my Incredible Summer Vacation of 2008 has been equally lovely and, with the added bonus of Patrick, fun. The Best Nephew Ever likes this beach a bit better, as it is soft, white, and perfectly edible (he thinks) compared to the shell-filled beach of our last spot. Teaching him discover the joys of "Digging to Either China or Until We Hit Water, Whichever Comes First" is among the most fun I've had in ages. Patrick is discovering that the sun is not as friendly to him as it is to others because there has been such a gap in their communication. They haven't seen each other in about three years, which tends to make the sun angry. Thus, he's been wearing a protective tee.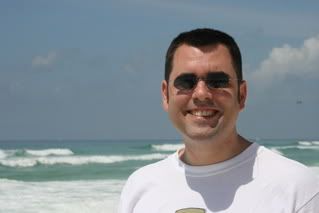 This leg is an extended family trip, so we're here with my father and his sweetheart, his mother, his two sisters and their husbands, two cousins, and one cousin's family. There are 16 of us in total, including the two babies, and, so far, it has been a miraculously easy and fun trip. Everyone gets along, everyone is having a great time. I had to buy a second swim suit, being unable to live in the same suit for 13 days straight. This one doesn't make me look as pregnant. On the other hand, then I just look chubby.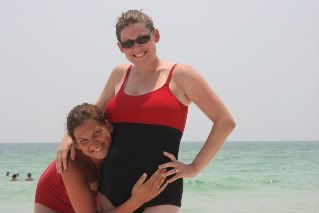 The only bad part of this trip has been the onslaught of JELLYFISH, of which I am deathly afraid. The last two days they have been flying the Red Flag of Doom and the Purple Flag of Terror (Red = hazardous surf, Purple = dangerous marine life). Needless to say, no one in my immediate family has touched the ocean in 48 hours. Two cousins and an uncle got stung by the jellys though, and I nearly cried when they were telling me about it.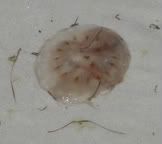 The first night we were all here, we said hello to everyone, but the individual families had dinner and went grocery shopping by themselves. Sunday night, we had a progressive dinner. First up: drinks and appetizers at my dad's older sister's place. Next: pasta and watermelon at my dad's younger sister's place. Finally: ice cream sundae buffet at our place. Monday night Club 503 (our condo, consisting of 6 people plus the nephew) decided to go out for Italian. By the time we went, THE WHOLE FAMILY had decided to join, making a total of 16. A great meal was had, though my immediate family sat together (Club 503), rather defeating the purpose of an extended family outing. Tuesday night brought another progressive dinner. Appetizers and frozen drinks at our place. Fish, salad, and ricotta at Older Aunt's condo. Key lime pie, ice cream, and brownies at Younger Aunt's place. Tonight is the Best Nephew Ever, Baby Mama, and Bro-in-law's last night here, so we're doing another family dinner. We're providing dessert again - birthday cake to celebrate my dad's big day next week. Promises to be fun.




During the day the individual families have rather kept to themselves. Even within Club 503, we do our own thing - Patrick and I sleep in a little later and head down to the beach. Baby Mama and crew are up early for a walk, get back to the condo, then the beach. My dad and his sweetheart are about in between. Today Patrick and I decided that we'd had enough sun and so went shopping for a change of pace. All in all, this vacation has been lots of fun. I love connecting with family, especially the ones that tend to slip away from me, so I've really enjoyed talking with people. Today I even got some one-on-one Best Nephew Ever time when Baby Mama and Bro-in-Law went to lunch. Truthfully, the 45 minutes before he fell asleep might be my favorite time of the entire trip.




Patrick and I head back on Friday. Back to real life soon. I think I may have to steal the Nephew, though.