You people are amazing. Every time I start thinking that this blog is frivolous or that no one reads it, you come up with a response like that and I am so grateful for the opportunity to connect with so many completely fabulous people. Thank you for your kind words of support. I am feeling much better the last few days, probably because I have finally been able to sleep a little. Yesterday I accidentally took a five hour nap. Then I slept for seven and a half hours last night. Even though it is gloomy today and I'm sore and achy, things just seem a little brighter.

Some more random tidbits for you today, if for no other reason than to get that depressing post off of the top of the page:

*****

HOLY COW we may have decided on a name. I'm not going to tell yet, because I don't want to jinx it, but we came up with it on Monday night. Then yesterday Patrick asked if I had thought of any more names. I said that I still liked the one from Monday and cringed, since this is always where he squinches up his face in disgust and says that he hates that name, even though he liked it earlier. But yesterday he turned to me with big eyes and said, "Really? I still like it too!"

Seriously - nobody breathe.

*****

We had a doctor's appointment yesterday and I got "checked" for the first time. I'm nowhere close to labor yet and am measuring right on schedule. Last week she told me that I needed to come up with a Birth Plan. I laughed a little and told her that I thought that was only for midwives and home births and people who are not delivering in a hospital. She informed me that many women are dissatisfied with their labor experience because they have not communicated their wishes and, thus, their expectations were not met. Patrick and I went to a couple of websites to check out some templates for Birth Plans and, as it turns out, she was right. I actually do have expectations, as does Patrick, and they might differ from the standard at the hospital. Huh. Who knew? For the template that we used, go here.

*****

Several people have asked about the Mouse Roommates. In short, we have had several more incidents, including one last night that I ignored by not turning on the light but then I laid awake waiting for the thing to crawl on me and die. However, I have not been in a proper frame of mind to deal with this problem, so I haven't. Patrick and I recently cleaned out the basement and we found no evidence of mice. Nothing. No droppings, no torn up bits of anything, no entry point. So I've convinced myself that the cats are finding them as they come in and keeping the problem under control. I still hate it and try to save the little mice, but I haven't been too successful in finding them in time. *shudder*

*****

Tomorrow is our Childbirth Prep class. I am terrified. I think I need a Pre-Prep class.

*****

I'm going to rip out the dogs' vocal cords. FYI. Especially Sally. Because of this pelvic joint pain I've had, they are sadly under exercised, though I play with them at the house all day long. Sally has these fits where she gets herself worked up so much that she just turns in circles and barks. I can understand how she feels, as I have had a few of those myself, but SERIOUSLY dog. Can't you see you're taking years off my life?

*****

I was doing really well with my embarrasing Twilight obsession until I found out that Stephanie Meyer is no longer planning to finish Midnight Sun, which is the first book told from Edward the Hot Teen Vampire's perspective, because the first 12 chapters magically were leaked onto the internet and she feels all violated. I totally can see where she's coming from, but come on! You have rabid, insane fans here! But it was okay because she posted her version of the leaked chapters on her website, all 267 pages, which meant that I used some of my not-sleeping evenings to read it. It has just ignited the fire all over again and now I'm back to stalking forums and watching the trailers over and over. (You can download the partial book at the link above. Happy obsessing!)

*****

Finally, a few pictures for you, since we miraculously found our camera charger last night. First up, the nursery:

Changing table with one million diapers and 900 stuffed toys that Patrick loves. The crooked diaper stacks really bother me, but they WON'T STAY.




Crib, mobile, monitor. Baby Faux-Pas: unwashed crib sheet. (I'll get to it.)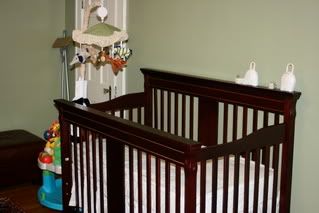 Bob the Bear (a gift to me on my actual birth day by my father's friend Robert who hated the name Bob) in the awesome glider. Future reading nook, once I figure out what to do with the books.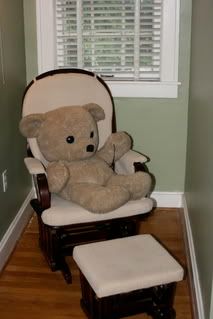 36 and 1/2 weeks. Horrible photo, but it is hard to do that little twist these days. This was the best of like 10. There are two inches of my body in shadow - that's odd. Note to self: Stay in School!