Normally, I try to see every person I have ever known over the course of about 36 hours. Quality time is difficult when you are so worried about being late for the next appointment that you zone out of the conversation you're having.

Happily, I did not allow for this weekend to be as crazy as normal. This was the first time I traveled with Colin alone and am already exhausted just from keeping us alive day-to-day, so I decided that I would stay under the radar. I'm glad I did; it meant that I actually conversed with the people that I saw. I remember what they said, even! Accomplishment, possibly never to be repeated.

I gave two fantastic concerts - one in the car on the way there and one on the way back. They were given in honor of rediscovering three of my favorite CDs ever. Also, sleep deprivation leading to exhaustion but needing to stay awake. Concerts are good for keeping you awake. The repertoire included Songs of Cole Porter, New York Voices accompanying me in the songs of Paul Simon, and the Complete James Bond Theme Songs. Awesome. You should be sad you missed it.

I made the trip in the first place to celebrate my friend Allyson's baby at her shower. I continued my lifelong streak of never once winning a shower game of any sort - even at my own wedding and baby showers - by losing spectacularly at the Candy Bar in the Diaper Game as well as Baby Gift Bingo. (Side note: If you weren't aware, I just had a baby myself and care for one on a minute-to-minute basis. You would think that I would be able to think of a few baby items to put on my bingo card. Instead, I had to resort to things like CARD and BOOK. Pathetic.) The girls that threw the shower served The World's Most Fabulous Cake, which had a layer of raspberry filling with actual raspberry seeds in it. Also it sparkled!

This weekend also saw the continuation of the cousins = BFF development. Holy cow, people. That Best Nephew Ever is earning his name. He mastered "Touch the Baby" weeks ago, as you'll remember, and has moved on to kissing the baby. Words fail to adequately describe the Cute. See for yourself: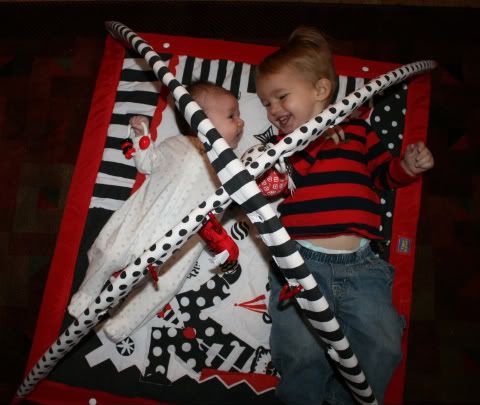 My sisters, me, and my very own little Turnip:




EDITED TO ADD: In the interest of full disclosure, I should say that the Baby Mama took the pictures of the kiddos. I know, I know. She's a force of nature, that girl.