When we were looking at houses in Indy, we got a little behind schedule through the course of the day. So when we toured the house we are now trying to buy, we spent all of ten minutes in it, then decided later that we wanted to live there. The short time that we were in the house was not enough to absorb all of the details, thus we have found ourselves having countless, pointless arguments about the color of the living room, if there is a coat closet or not, and where exactly the bathroom is located in relation to the bedrooms.

Yesterday we drove up for the day so we could be present for the inspection. (Read: go through the house again and not be snipped at for looking through all the drawers.)

As a side note, are you a nosy person? I have learned that I am an inherently nosy person and I ABSOLUTELY LOVE going through other people's stuff. I realize that this is potentially problematic and have so far been able to keep it at bay, but the temptation is really severe when left alone in someone else's house with a blanket permission slip to go through their closets. I know. I'm a terrible, terrible person. However, some people might say that I am "curious" or "interested" and that this is exactly what will make me an excellent physician. Let's go with that.

Anyway, we were really anxious about the inspection for two reasons. First, obviously, I was concerned that there would be, like, a huge crack in the middle of the house which would cause it to fall down as soon as we took possession. I don't tend to notice those things, which is why we pay an inspector. Second, and more serious, I was terrified that I wouldn't like the house. I have a really awful memory, see, and my brain also likes to make things up, which I then believe because my brain tells me they're true. (I'm going to be a great doctor.) The point here being that I only remembered a few tiny glimpses of the house and I wasn't really sure if those glimpses were even real.

I know. Don't you wish you had my brain? It's always an adventure.

Thank GOD, we both still like the house. Love it, in fact. My father-in-law joined us for the outing, being a very handy person, so we could bounce some ideas off of him. Incidentally, he is also a man of, shall we say, strong opinions, so when he "liked it A LOT" I almost reconsidered my growing fondness for our (hopefully) new house, but decided to go with it and be glad he couldn't find anything to complain about. (He still found a few things, but, truly, they were pretty minor. Comical, even.)

My task for the day was to adequately document the house so that we could settle future arguments regarding bathroom location quickly. In a 1660 square foot house, plus an attic, a basement, and the outside, I took over 150 photos. Yay for digital!

Here are a few to give you an idea:

It's an Arts and Crafts style, which we may not have chosen out of a lineup, but is charming nonetheless. And it's green, my favorite color! Sold.




The house is sideways on the lot (again, not how I would have designed it, but it's cool.), so the front door is on the side, but most people will probably use the French doors in the front which open into the living room.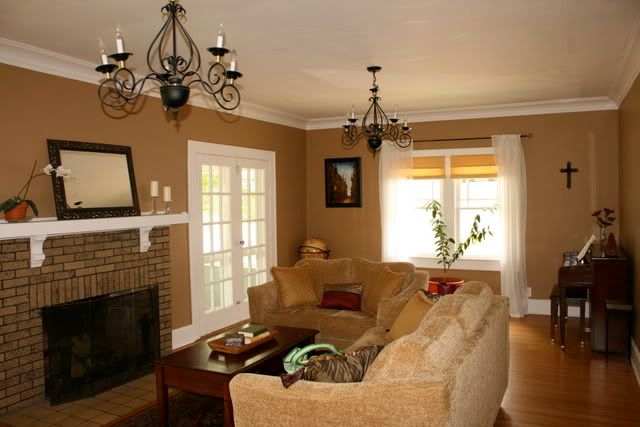 This is standing in the living room looking through the entry hall (on the side of the house. whatever.) to the dining room and the kitchen beyond. Those interested can spy Patrick's very cute rear end peeking in from the hallway. The bedrooms are off that hall, with the bath in between them.




The house currently is two bedroom, one bath, but we plan to finish the attic space into a "master suite", a completely ridiculous name for a room that will almost certainly still require a window air conditioner. We hope to add a bathroom, but here is the current bath, which Patrick loooooooooves because of the small hexagonal tiles on the floor and the subway tiles in the shower and I loooooooove because of the bright lights, double sinks, and modern fixtures.




Here is future master suite! It will take a little work...




It will be directly over the whole house, except for this room, which was added on at some point. I love it because it is so bright and cheery. I like things that are bright and cheery. I like people like that too.




The family room is off of the kitchen, which is about twice the size of our current kitchen. It is a little dark and overly formal for my taste, but my taste also includes having enough room to put groceries away as well as getting ice out of the refrigerator door (which this refrigerator is capable of, but is not evident in this picture so I probably shouldn't have mentioned it. Take my word for it.) so it works out well enough.




There are about 145 more pictures, mostly of light fixtures and the insides of closets and of staircases and plants and so forth, none of which are particularly blog worthy, but the sheer volume of photos should communicate to you that we are really, really excited about this house, can't wait to get up there and dig in, and absolutely, positively, truly cannot believe how lucky we are that this all worked out.