This is a little awkward, but I have been left with no other choice.

Some very, very nice person has sent the Turnip an adorable little outfit. It even has an elephant on it, which is my new obsession. How did you know? This thing is so cute it makes me squeal, and I'm not much for kids stuff to be perfectly truthful.

Behold the cuteness: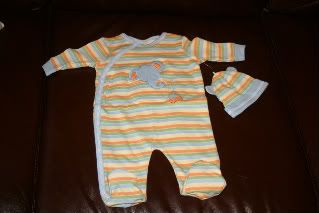 And the little elephant - squeal!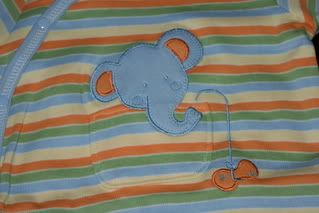 The best part was that we had to go pick the package up, since we weren't home when it was delivered. It was actually addressed to "Turnip". At the counter was a crusty old guy who wanted to go home and was not in a playful mood. Here is what followed:


CRUSTY UPS GUY
I need to see some ID.
KATIE
(hands him ID)
CRUSTY UPS GUY
This says "Turnip". Who's that?
KATIE
Oh... that's actually a nickname for my... well... you know... it's my...
(gesturing madly at obviously pregnant belly but Crusty UPS guy does not look up or understand what Katie is trying to indicate)
for my UNBORN CHILD
.
CRUSTY UPS GUY
(looks up at Katie)
(looks at Katie's belly)
(looks back at Katie)
So I guess that means he doesn't have any ID yet.
Classic. A story for the grandkids. However, the package came with just one little piece of paper. One that said, "Sender: See Note." But there was no note! Arg! So I called the company - it was sent from Macy's through Amazon - and they could not (I think WOULD not) tell me any more information because I was missing some key identification numbers that were on other pieces of paper missing from the package.
Here is my plea: Were you the lovely person who sent the gift? PLEASE email me! I would like to give full credit where it is due. The little outfit is too cute to go uncredited.